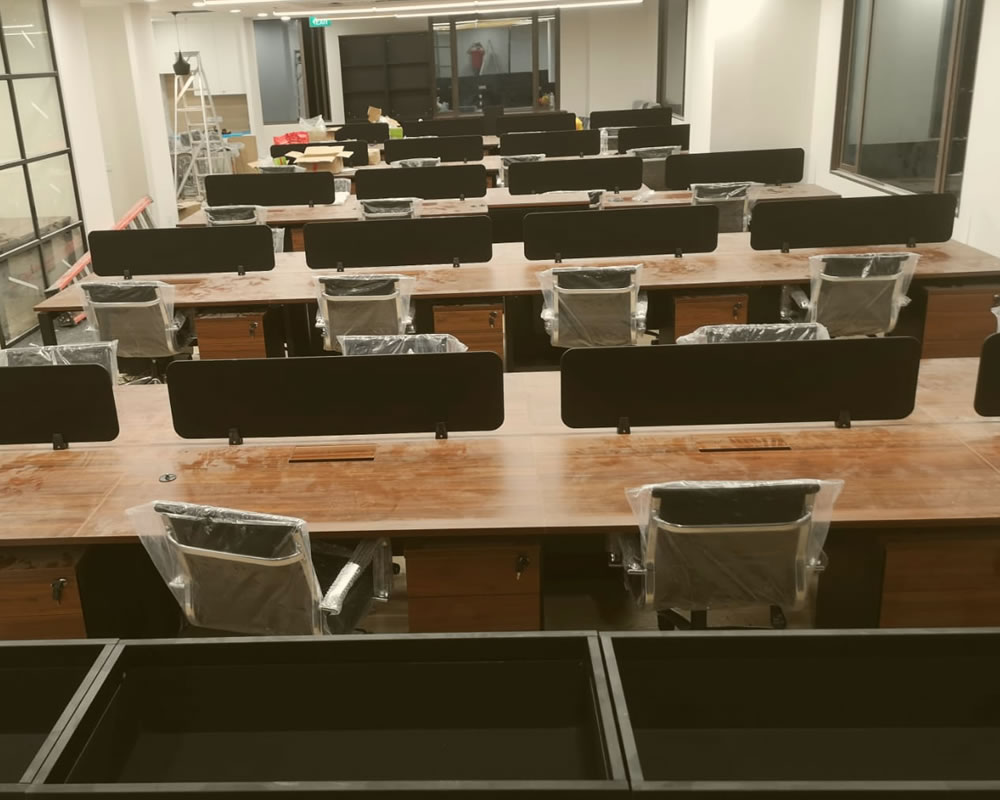 21 Aug

August 2019 Project Highlights
Industrial chic continues to be wildly popular but all white ensemble isn't losing steam either.
With the increasing number of hours people spend at work, the work place is as good as our second home. A lot of thought is given these days to how a work environment can be made as comfortable and aesthetically-pleasing as possible for its users while maximising the space's potential for economic purpose. In this month's projects highlight, we showcase 4 projects that feature styles that remain well-received.
……………………………………………………………………………………………………………………………………………………………………………..
Great World City for Image Creative Design
Edgy industrial chic continues to be popular for office spaces, commonly employing wood grain surfaces with black detailing to achieve an unfinished yet elegant look. At Great World City's office space, DE Series System Furniture, Director's Desk and Conference Table are selected to furnish the main staff area, executive rooms and conference rooms.
Client has chosen a darker shade of wood grain table top to match with black DE Series table legs. DE Series table legs are designed with a slanted angle instead of the usual square shape, adding an interesting detail to the furniture.
The main staff area is furnished with DE Series Desktop Panel System Furniture. Client has chosen similar dark wood grain table top, and resonating with the black framed glass panels, black acrylic desktop panels are selected. Low-height desktop panels served to maintain visual openness of the space, while demarcating individual workspaces. Each work area is also given a mobile pedestal in wood grain surface to increase storage space.
Customised storage solutions are also built for this work space. Again, to maximise storage potential, a full-height cabinet and half-height cabinet with planter box are built. This half-height cabinet not only provided storage solution, it also served to demarcate spaces with difference purpose, and the planter box offers an opportunity to introduce greenery to the work space.
………………………………………………………………………………………………………………………………………………………………………….
EDG
EDG Design is another client that opted for the industrial feel for their office. They chose our BA Series Conference Table, matching wood grain table top with black legs. BA Series feature Nordic style tapered table legs, which are simple yet elegant. The BA Series Conference Table also comes with built-in table-top cable box, ensuring discreet cable management.
……………………………………………………………………………………………………………………………………………………………………………..
Hermes Abrasives
An evidence of the popularity of wood grain table tops, Hermes Abrasives has selected Nantes Director's Desk to furnish its executive room. Nantes Series' main attraction is it's timeless combination of wood grain and white surfaces.  Nantes Director's Desk has a built-in side return on the left, with 4 open shelves and 2 drawers,; and a chest of 3 drawers on the right, providing ample storage space and work top area. Covered cable box accessible from table top also provides discreet cable management, reducing clutter on the work area.
…………………………………………………………………………………………………………………………………………………………………………………………..
AJ Capital
We've said a lot of industrial feel, however the classic all-white combination continues to have its steady stream of supporters, among them is our client, AJ Capital.
In this project, client has selected our AL Series Desktop Panel System Furniture to furnish their office space. AL Series' unpretentious design stands out in its simplicity and ability to blend in with existing interior. Low-height desktop panel effectively demarcates individual work spaces while maintaining visual expanse of the space.